Second real post took a bit longer because apparently there are several professors who really wanted me to turn in some original work. One final, a presentation, and a paper outline later, I took the morning off to complete work on my desk. I have to tell you, my technique wasn't perfect, but it came out just like I hoped it would…and under budget.
Today's project was fueled by the second season of "The Flash" because I miss "Supergirl" so much. Judge all you want but Kara Zor-El gets me.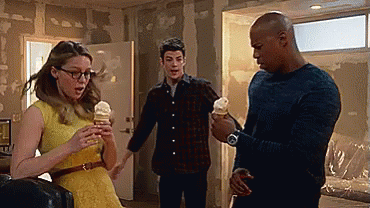 Onto the desk! Supplies: I found a pale green colored eggshell paint ($5) in the 50% off section at Home Depot and used the rollers from the kitchen cabinets (~$10). Additionally, I picked up the semi-gloss polyurethane to seal the paint ($7).
Door ($20): I bought this one at the Habitat for Humanity ReStore. The store separated out the closet from exterior doors which made it easier to find one without grooves.
Trestles ($15 ea.): Although it really seemed like a good idea to use cabinets, I wanted a more open area under my desk to move around and not bash my knee all the time.
Spray Paint ($12, Michael's had a sale!): I ended up buying two cans, which I am really glad I did.
After I removed the door knob, I cleaned off then entire door and sanded down any rough looking areas. The roller really helped get the door painted quickly. HOWEVER, I had some problems with the polyurethane. I am thinking it could be one of two problems: either the green paint wasn't dry enough before I started the top coat or I did a poor job of applying it evenly. As I write this, I am realizing it is probably a combination of the two. The coating doesn't feel like it has ridges, but there is some discoloration where it built up on the edge of the roller. Not annoying enough to have done another coat to correct it, just work with the poly a little before doing a big area.
Then onto the trestles. I have never really used spray paint before so I was pretty excited. It was as easy as I had hoped, but there were some splatter marks that I didn't really know if I could correct. As I said, I am glad I had bought two cans but wish I had a third. I was able to use a can for each trestle and it would have been nice to go over a couple other areas again because the trestles' black color made the lightly covered spots more noticeable.
Finally, I let everything dry and then got it into my attic-office.
With the exception of the carpet (that came with the house), I am pretty dang happy with how this project turned out. Plus, doesn't every woman need enough space for three screens?
Now I am capping off my day with homemade bbq with a pineapple chutney.
S&B